Research at FVSU
When we say "change the world," we mean now.
Research at FVSU is a 360 degree experience.
FVSU's faculty are highly sought-after for their continuous research into areas of importance to humanity, their deep insight, and noteworthy expertise. But research at FVSU is not the province of faculty alone. Graduate and undergraduate students are also in intense pursuit of new knowledge, assisting faculty with research, conducting their own independent exploration, and presenting their findings. At FVSU, we believe that breakthroughs come when everyone is empowered to bring forth genius.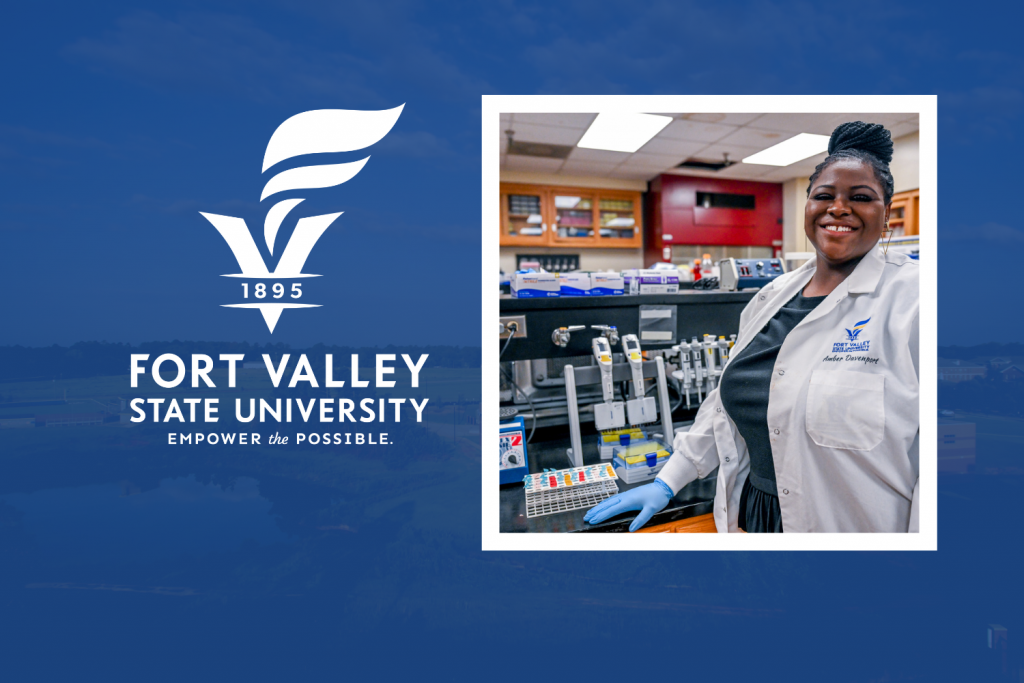 Student's Research Earns Third Place at International Conference
Biotechnology graduate student Amber Davenport's love for science is centered on helping people.
Fort Valley State University graduate student Amber Davenport is surpassing goals and making a name for herself in the science world.
Her poster presentation on nanotechnology secured a third-place win at the 11th annual hybrid conference of the American Council for Medicinally Active Plants (ACMAP) at the Inter American University of Puerto Rico this summer. Nanotechnology is an emerging scientific field that impacts food and agricultural systems. This innovative technology manipulates matter on the nanoscale (about 1 to 100 nanometers) to produce new structures, materials and devices.
The biotechnology major is using her research skills in the laboratory to create a nano biosensor, which operates like a pregnancy test, she described.
"I use nanoparticles to detect a toxin prevalent in peanuts. Aflatoxin B1 is naturally occurring and produced by fungi," Davenport explained. "It grows in the soil and is found on crops."
For that reason, the young scientist is creating a sensor that is easy to use by small-scale and commercial farmers to detect aflatoxins in peanuts.
"The optical sensor determines the presence of aflatoxin B1. I am using a spectrophotometer for ultraviolet-visible absorption, which gives the concentration of the aflatoxin in the solution," she said. "Because peanuts grow underground, they are susceptible. This is important in Georgia because we produce more than half of the country's peanuts."
Davenport said this research matters because aflatoxins affect agriculture not only in Georgia and the United States but also in other countries where they do not have the necessary resources to control the spread of this toxin.
"My method of detection is rapid, sensitive and selective to only aflatoxins. It does not require a lot of time or money," Davenport said. She added that she is making the nano biosensor sensitive because a small quantity of aflatoxins can make someone sick. Aflatoxins can cause cancer, liver failure and many other diseases.
For Davenport, her love for science is centered on helping people.
"What drives me is making science practical, acceptable and applicable for people in different socio-economic classes and who may not have the same benefits as those living in a first-world country. I want to make an impact everywhere," she said.
The Fort Valley, Georgia, native emphasized science is fun, but it answers the key question she explores every time with her work: How does this research impact the world?
"My research has broader impacts. Some years ago, 125 people died and about 317 people were affected with aflatoxicosis because of the inability to detect the toxin and there were no measures to prevent it," she said. "Peanuts are valuable. It is the fourth most edible source of vegetable oil and the third most important source of vegetable protein across the world."
The graduate student said representing FVSU on an international level was a humbling experience. "I was honored and excited," she said. She was among three other peers who presented at the conference and the only student from a historically Black university to place.
"I know that I belong here," Davenport said with confidence. "To know that the work I have done is making a difference and being seen is rewarding."
She applauded Nirmal Joshee, Ph.D., FVSU professor of plant science, who co-chaired ACMAP, and her adviser, Hari Singh, Ph.D., chair of the Department of Agricultural Sciences, who goes above and beyond to make sure she succeeds.
"I am proud of Ms. Davenport's achievement," Singh said. "I see her as a role model for aspiring graduates because of her passion for science and she's motivated, a quick learner and always ready to help her peers."
Davenport expressed, "Fort Valley State has done so much for me. I earned my undergraduate degree from FVSU in biology and am now getting my master's degree in biotechnology. I made the best decision transferring to FVSU."
Having a place at the table as a Black woman in the science field is monumental for the Warner Robins High School graduate. Davenport says she is making noise not only at her alma mater but internationally as well.
"I am grateful for the opportunity and connections. It feels good to make people proud and to be in a position where I am breaking the status quo and achieving the goals I set for myself," she said. "This work gives me purpose and joy."
In addition to her participation in Puerto Rico, Davenport presented her research at the 20th Association of Research Directors (ARD) Symposium in Atlanta and on FVSU's Research Day, where she placed first for her oral presentation. She also participated in a workshop with the Alliance for Science in partnership with the Foundation for Food and Agriculture and interned in the summer of 2021 at the University of California, Davis, where she plans to pursue a doctorate in agroecology following graduation in December.