Coronavirus FAQ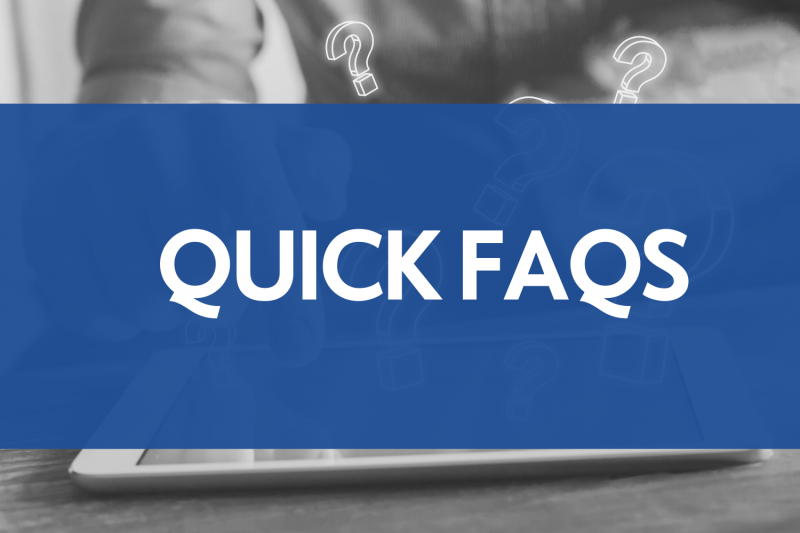 Academic Affairs
Are our virtual faculty meetings being recorded?
We want to ensure that we have maximum bandwidth when doing a videoconference that may have more than 150 people participating so we plan to refrain from recording the videoconference.
Will these slides be made available after the presentation/meeting?
Prior to each virtual faculty meeting, we plan to release all pertinent information.
Is the semester moving out two weeks?
There is no plan to extend the semester at this time; however, prepare to teach fully online.
Will technical support during this transition be available?
Technical support has not changed and will continue to be available from the Information Technology and Online Learning Departments.
How do we transfer our office phones to our cell phones?
Instructions for phone transfer are forthcoming; however, you can contact the Information Technology Department for instructions.
How do get my ID card updated to access buildings?
The academic deans are collecting the information related to building access and we plan to share it with Mr. Darrin Simpson who will update the system to provide everyone access to the appropriate buildings. If you need immediate access, please email Mr. Simpson at simpsond@fvsu.edu and copy your academic dean.
Is it still correct procedure to avoid using student ID numbers in electronic messages?
Please refer to the Personal Identification Information (PII) form distributed via email. It is important that we refrain from sharing any PII when communicating electronically.
Will the library remain open during this time?
Although the physical library will not be open to visitors, staff are present Monday through Friday and can help with access to digital library resources.
Will the summer semester be web-based?
There is no decision about summer school at this time, but faculty should continue to hone their skills related to online learning in case summer school is online.
If I teach twice a week, are we now focusing on one topic per week?
No, your goal should be to cover each of the learning objectives in your class; however, utilize D2L or other means to help convey the material to students.
During the test phase of our online migration, do we post lessons and hide them from students?
At this point we are migrating everything online. Prior to March 30, all undergraduate students should not be required to login and complete any task related to the class.
Should current classes already online be restructured for five weeks?
Yes, please make adjustments to your class that allows students to complete everything in the last five weeks of the spring 2020 semester.
What about performing musical activities?
Please consider using technologies such as cell phones, web cameras, etc. to find creative ways for students to record their performing activities for your review. Please work with the Online Learning Department to get additional ideals and to get help with how to use D2L to facilitate everything.
What about exams, finals and the common exams?
D2L has an assessment tool that you can build exams and you can find a web tutorial on the Online Learning Department website that shows you how to do this. Please contact Mr. Don McCarthy at mccarthyd@fvsu.edu for additional information about the common exams.
I currently teach online so can I continue teaching during this two-week period?
All classes, except eCore/eMajor classes and two online graduate programs, should remain suspended until March 30.
When will "I" grades be required to be removed?
The goal would be to resolve any "I" grades by the next term excluding summer on a case-by-case basis.
What if students lack a desktop/laptop or do not have internet access at home?
Unfortunately, we do not have a solution at this time. All faculty members should work with students on a case-by-case basis to identify ways to address these challenges.
What about undergraduate students who need access to labs for class or research
Undergraduate students are unable to complete in-lab assignments during this period. Faculty members should work with students to develop alternate ways for the students to continue conducting research using online resources or other acceptable means.
Is it appropriate to ask students to login during usual class time in order to allow instructors to be online at that time to answer questions?
Prior to March 30, 2020, all undergraduate students should not be required to log in and complete any task related to the class. After March 30, technology can be utilized to allow students to ask instructors questions directly during designated times.
With the suspension of commencement until August 8, will course grades for graduating seniors still need to be submitted to the Registrar's Office earlier than course grades for other students?
We will maintain the current schedule for senior grade submissions. We will be confirming degrees for prospective graduates in line with the current calendar
Will instructors be able to sign document requests for students, such as graduation applications, via DocuSign?
We are researching the use of Dynamic Forms as a solution to replace paper-based forms to allow secure documents signing with electronic signatures.
I use another learning management system (e.g., Blackboard) to teach my courses which includes live streaming that I also record. Students seem to like this system. May I continue in this way? My course is hybrid, and I have been using D2L to post assignments, quizzes, and exams.
Continue to do what you are doing if you are currently using another platform to offer your class, but do not introduce new LMS. We will need to migrate courses to D2L moving forward.
Can published announcements in D2L be modified or edited?
Yes, published announcements can be edited and modified.
Do all students have access to D2L and their FVSU email?
Yes, all students have full access to D2L and their FVSU email.
Can I ask students to join in Zoom conference during usual class time and complement my lecture with D2L course materials?
Yes, once classes resume on March 30, you can ask students to join you through a web-based conferencing tool like Zoom. You can also utilize a virtual classroom tool like Collaborate, which is embedded in D2L.
Will students receive instruction and guidance regarding migrating to fully online courses as we have?
Yes, instructions will be disbursed to all students by March 27, 2020
Is there a software that can convert MS Word format to D2L format?
MS Word documents do not have to be converted to a different format for use in D2L; however, if desired, it can be saved as a PDF file and then uploaded.
Where do advisors get the advisement sheet to provide students? Will it be distributed once self-registration is ready to deploy? Where do advisors get the PINs they will distribute to their advisees during self-registration?
More specific guidance will be provided regarding self-registration and advising at the March 27, 2020 meeting.
How will field experience hours be managed for student teachers with all of the sites currently closed?
We recently received documentation from the Georgia Professional Standards Commission that suggested flexibility with this circumstance. Please contact field director Jessica Jefferson for further guidance.
How can KeepTeachingUSG be utilized?
The KeepTeachingUSG site is expanding in scope. There are extensive resources to enable faculty to build remote instruction that anticipates that students may not have access to dependable or high bandwidth internet service. Part of the site also contains resources for students. The USG is in the process of building that part of the website into a full KeepLearningUSG site to encourage student success behaviors in a remote environment. Once that exists, a link will be provided.
What about fair-use copyright guidelines?
Please contact academicaffairs@fvsu.edu for a copy of the fair-use copyright guidelines
Will the tenure clock be suspended?
Please see Board Policy 8.3.7.4 that states that tenure can only be suspended for an approved leave of absence.
Admissions
Business and Finance
What dining options are available on campus?
There will be no dining services offered during the suspension period of March 16 through March 29. After this period, dining services will be limited to students living on campus and will be on a delivery basis only. Further information will be disseminated regarding delivery times for meals.
Will the bookstore be open?
The physical campus bookstore will be closed for the suspension period through the end of the semester. However, the bookstore website remains open with free online shipping, free eBook access with RedShelf, free mail-in rental returns, extended return deadlines, and free Lumen Learning courseware access. This link to the online bookstore is being provided for your convenience. /students/the-university-bookstore
Can I access campus mail services?
Mail Services will maintain standard operating hours of 8am to 4:30pm. Students are encouraged to check with Mail Services before completing the move-out process to ensure they do not have packages that need to be picked up. If arrangements need to be made to forward mail (USPS mail only), students can contact Mail Services at 478.825.6311.
Will custodial services and grounds crews be working?
Normal custodial and ground operations will continue with increased attention to disinfecting high traffic areas on campus.
How do I change my address currently on file with BankMobile?
To change your address please contact the registrar's office at registrar1@fvsu.edu. Address changes are updated nightly in BankMobile.
How does this affect work-related or school-related travel?
All non-essential travel has been suspended. This includes travel to conferences (particularly those held out-of-state), training, site visits, and any non-essential activities. Essential travel is any travel directly impacting the continuance of university operations.
Will I be able to access VSU Transportation or buses?
Campus transportation will not operate for the remainder of the spring term.
Will room, board, and mandatory fees be refunded to students?
Yes, Fort Valley will refund pro-rated room and board charges as well as parking, activity, and transportation fees as of March 16, 2020. Communication was distributed via email to all students on March 23, 2020 with details concerning the refunds.
Are non-refundable travel costs associated with grant-related travel that has been cancelled due to COVID-19 allowable and can they be charged to the grant?
Such charge to a grant is dependent upon the grant funding agency regulation. All grant-related travel will be reviewed and compared to the grant's funding agency regulations to determine if reimbursement is allowable.
Can I still get reimbursed for airfare if my university-related meeting/conference was cancelled?
Travelers should closely examine the cancellation/exchange rules and fees before purchasing a ticket. If a trip is cancelled after a ticket has been issued, the airline reservation must be cancelled at least one hour prior to the scheduled flight. If the ticket is refundable, the traveler should communicate with Travel, Inc. or airline and request a refund. Cancelling a reservation does not void the Travel Agency Fee for the original airline reservation
Does the restriction for non-essential travel apply to personal travel?
No. However, the university strongly recommends that everyone reconsider even personal travel abroad at this time. Anyone returning from international and domestic travel where there is a high incidence of COVID-19 should self-isolate for 14 days before returning campus.
Will I get reimbursed for my prepaid hotel stay?
Hotels will typically allow for cancellation with no charge from 24-72 hours prior to the date/time of check-in. Please check the policy as each hotel has different cancellation policies
How do I get refunded for a flight cancellation?
Many airlines have altered flight schedules and capacity to highly affected areas for both domestic and international destinations. Check with the airline you purchased the ticket from. If the ticket is refundable, the traveler should communicate with Travel, Inc. or airline and request a refund.
Will I be reimbursed for purchasing travel insurance?
Standard travel insurance policies will not cover flight cancelations and delays due to coronavirus unless it is specifically written into the policy. Travel insurance is not reimbursable for university business travel.
Will the university reimburse travel cancellation or change fees?
Situations that result in airline, hotel & car rental imposed penalties for changes for business reasons or circumstances beyond the traveler's control are reimbursable.
Will tuition and course fees be adjusted?
No, tuition and course fees will remain the same for the Spring 2020 term.
Do I need to contact anyone to receive a refund?
No, all charge adjustments will be calculated and applied automatically to the appropriate student's account. Refunds will be generated for all students with credit balances after charge adjustments have been posted.
How soon can I expect to receive my refund?
The refund process is expected to be completed by April 3, 2020. The timing of your refund delivery or posting will depend on whether you are set up to receive a check, debit card, or direct deposit in BankMobile.
Will the adjustments to my account result in a refund?
A refund will be generated for all accounts that have credit balances after charge adjustments are posted.
How will I receive my refund?
Your refund will be delivered via your current refund method on file with BankMobile. If you have not selected a delivery method with BankMobile, contact John Cagnina, Bursar, at cagninaj@fvsu.edu or 478.825.6522.
How do I change my refund preference method with BankMobile?
To change your refund preference please log into the BankMobile site and change it there.
Who do I contact if I have questions regarding my refund?
Questions regarding refunds should be directed to John Cagnina, Bursar, at cagninaj@fvsu.edu or 478.825.6522.
Campus Safety
I need to file a police report. Can I still come to campus?
The University police department will be open and continue to provide police services during normal operations to service the campus community. Please use the non-emergency line 478-825-6500 for general information and non-emergencies. If you have an off-campus emergency in the county or state you reside in and need immediate assistance, please dial 911. For on-campus and local emergencies, FVSU Police Department's emergency line is 478-825-6211.
IT
Who do I call for IT assistance?
Please contact the helpdesk at 478-825-6228 ) or by email, ithelpdesk@fvsu.edu. The Helpdesk is available M-F between 8:00 am – 5:00 pm.
I have problems logging into D2L.
Please contact the helpdesk at 478-825-6228) or by email, ithelpdesk@fvsu.edu. The Helpdesk is available M-F between 8:00 am – 5:00 pm.
How do I reset my banner pin?
Email registrar1@fvsu.edu including student id requesting pin reset.
How do I reset email password?
To change your password, login to myapps.fvsu.edu page and select forgot password.
How do I update my phone number because I am not able to retrieve code?
Contact the helpdesk. You will need to set up all of the MFA factors in case you don't have access to one of the other methods of authentication.
I have a question/problem using D2L.
Contact online learning at 478-825-4610 or email online@fvsu.edu. The Online Learning Department.
How do I get Microsoft Office?
Log into your student email account. In the upper right, you should see a button that says, "Install Office", then click on "Office 365 Apps", and follow the directions.
Are the labs open on campus?
Campus labs are NOT open at this time.
Student Affairs
Students
Will I be able to retrieve my mail from my mail box?
We are encouraging students to visit the mailroom when they arrive to campus to get their items. They can also complete a mail forward card to have packages forwarded to them.
My family is displaced. I have nowhere to go if I have to leave campus. Can you help me?
Students who may need to stay on campus can contact Jesse Kane, Vice President for Student Affairs and Enrollment Management at kanej@fvsu.edu.
I live in another state. I need more time to get my belongings out the room. How will you handle this?
If you need more time to get your belongings, please arrange that with Shawn Modena, Director of Housing & Residence Life, at modenas@fvsu.edu.
I am a senior that graduates in May. Will we still have graduation in May?
The May Commencement Ceremony is tentatively rescheduled for this summer, on August 8th. This is contingent on the impact of COVID-19 and guidance from the CDC and other state health agencies.
My parents are helping move, but my car is not working. Can I leave it on campus until it can be repaired?
If you need more time to get your belongings, please arrange that with Shawn Modena, Director of Housing & Residence Life, at modenas@fvsu.edu.
Will I get a refund for housing?
More information about refunds will be sent out to students shortly. Please be patient as we work through this particular issue.
Will I get a refund for my meal card?
More information about refunds will be sent out to students shortly. Please be patient as we work through this particular issue.
I don't have anyone to help me move my belongings. Who is going to help me?
If you need assistance with moving your belongings out of the residence halls, a limited staff may be able to help. Please notify the housing staff prior to your arrival on campus during your scheduled time at 478-825-6100.
I need to speak to the school counselor about my problem. Can I still come to campus to received therapy?
Counseling Services will still be available to students throughout the remainder of the semester. Please call Counseling Services at 6174. We will be able to provide tele-mental health services during this period as well.
If I am unable to complete the semester due to a medical issue, how can I withdraw?
Students can submit a request for medical withdrawal to the Vice President of Student Affairs and Enrollment, Jesse Kane, at kanej@fvsu.edu or by calling 478-825-6291.
Will Fort Valley State University be open during this time?
Though we have moved instruction for students on-line, the university will still be open and able to service students who need assistance.
Parents
How will you keep the students safe when they return to campus and gather their things.
We are following the guidance from the CDC and other health agencies on prevention and minimizing any potential risks relative to the spread of COVID-19. The purpose of staggering check-out times is to help prevent very large groups of students from gathering while they are here on campus. In addition, we are taking precautionary measures by sanitizing and disinfecting the common areas of each residence halls. We also encourage each student to take additional safety measures that they deem necessary (wearing of gloves, etc.).
What will be the protocol or course of action to enter the dorms if it is recommended to keep no more than 10 people from gathering at a time?
To get more information on the check-out process, please see the "Updated Move-Out Letter" by clicking on the following link: /students/housing. This information was sent directly to each resident student via their FVSU email account.
What is the time limit for coming to campus and moving my child out.
To get more information on the check-out process, please see the "Updated Move-Out Letter" by clicking on the following link: https://www.fvsu.edu/admissions/residential-life. This information was sent directly to each resident student via their fVSU email account.
My child is in the hospital. Will I be able to retrieve his/her belongings?
Each resident can designate someone to move-out on their behalf. The student will need to notify the Director of Residence Life, Shawn Modena at modenas@fvsu.edu or by calling 478-825-6100 prior to the scheduled move-out date and time. The person who will be moving out on the student's behalf will need proper identification (state-issued ID, driver's license, passport, or military ID).